Discover our last blog posts about the Arabic alphabet.
Al-dirassa centre has developed a series of free courses to learn easily and quickly the Arabic alphabet.  It is an easy alphabet, and there are no difficulties to learn it online with the al-dirassa centre.
The Arabic alphabet is an abjad, that is to say, a writing system noting only the engravings (or not much). It has 28 letters and is written horizontally from right to left.
The Arabic alphabet consists of 28 basic letters and a series of special characters and diacritics. It is written in a cursive fashion, and, unlike the Latin alphabet, Arabic is read from right to left.
Linguists consider the Arabic alphabet to be an abjad, a writing system that contains no vowel. Although this was originally true, today, there are two ways of indicating vowels. Long vowels are represented by weak consonants (ا (alif), و (waaw), and ي (yaa)), and optional diacritics, called harakat, provide short vowel sounds and better cues for the pronunciation.
There are no upper or lower case letters in Arabic as there is in the Latin alphabet. However, since Arabic writing is cursive and connected, each letter has a different shape depending on its position in a word. A letter can have four shapes: the isolated shape, the initial shape, the medial shape, and the final shape. There are, however, exceptions for the letters ا (alif), د (daal), ذ (dhaal), ر (raa), ز (zayn / zaa), and و (waaw) which are called selfish letters because they do not relate to other letters. These letters can exist in isolated or final form, depending on their position.
The fact that the Arabic script is cursive allowed the appearance of ligatures, two separate letters written in a joint form, and other modified letters.
Arabic is not the only language that uses Arabic abjad. Other languages ​​such as Persian, Ottoman (ancient Turkish), Sindhi, Urdu, Malay and Pashto also use it, but with some modifications.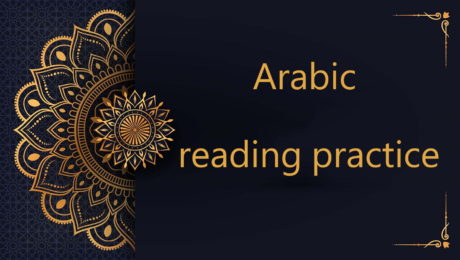 Introduction In this 8th lesson to learn Arabic, we will practice with all the concepts seen previously to practice reading words in Arabic. To recap the points we studied: Presentation of the Arabic alphabet The short vowel marks Double end-of-word vowels – tanween Long vowel marks The absence of a vowel – the sukoon The