Whether it seduces or scares, Islam does not leave you indifferent. Not to be satisfied with approximate representations concerning Islam, here is a fascinating blog that introduces the reader to the understanding of a culture that is at the same time so close and so distant to us.
Between the 8th and 13th centuries, Arab civilization experienced its golden age. Christian philosophers hunted down by their own religion find shelter there. Saint Thomas, the master of European scholasticism, will only know the works of Aristotle through the Arab commentaries of Avicenna and Averroes. The new religion that originated in the Arabian Peninsula then constitutes a "subtle synthesis between biblical rationalism and animist magical thought, between universal history and attachment to tribal ancestors, between the affirmation of the individual's freedom and respect for clan patriarchy."
It brings many improvements to the peoples who adopt it: identity is no longer social but cultural (universality of belonging whatever the region where one lives), the code of honour (involving a murderous vendetta ) is replaced by piety, collective defilement due to the act of a single member of the community gives way to individual responsibility, monotheism desacralizes the forces of nature and incites the scientific spirit.
But pre-Islamic values ​​will endure through conservative tendencies: preservation of the patriarchal and phallocratic order, endogamous reflex (marriage of women within the community), the dominance of oral culture (the Koran remains above all a text to be memorized and to recite and not to consult). This is added the search for the unity of faith that favours uniformity and conformity and condemns anything that disturbs the family's order (adultery, relationships outside marriage, homosexuality, non-obedience to the father then to the husband, abortion?).
Islam has always been torn between the tradition and the modernity of its time. In times of crisis, it falls back on the most conservative values. Several of his beliefs reinforce the tendency even more. This is the case with the notion of time. While the West devotes a true cult to progress, Islam considers that any innovation or evolution tends to move away from the original purity, authenticity and truth (which only a messianic revolution can recover).
But, it is also the case of the distinction between the pure and the impure, which refer neither to hygiene (the clean and the dirty), nor morality (the good and the bad), but respectively to the order of things imposed by divine forces which oppose the chaos and disorder identified with the demonic and the dangerous. Education leads the child from full innocence without any constraint to submission to authority. At the same time, the West, on the contrary, favours the path that goes from constraints to the exercise of freedom. What, in short, provoke many confrontations.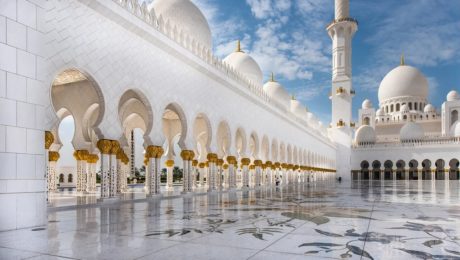 Discover 124 words that are common used in Islamic vocabulary. 1.  [Abd]  عَبْد Servant, Slave, worshiper, or creature. 2. [ibada]   عِبَادَة Worship: the spiritual aspect of Islam. 3. [wudhu]   وُضُوءْ Small ablutions before prayer. 4. [ghusl]   غُسْلْ The great ablution. 5. [adhan]   آذَانْ Call to prayer. 6. [ahlu l'bay't]   أَهْلُ الْبَيْتْ The people of