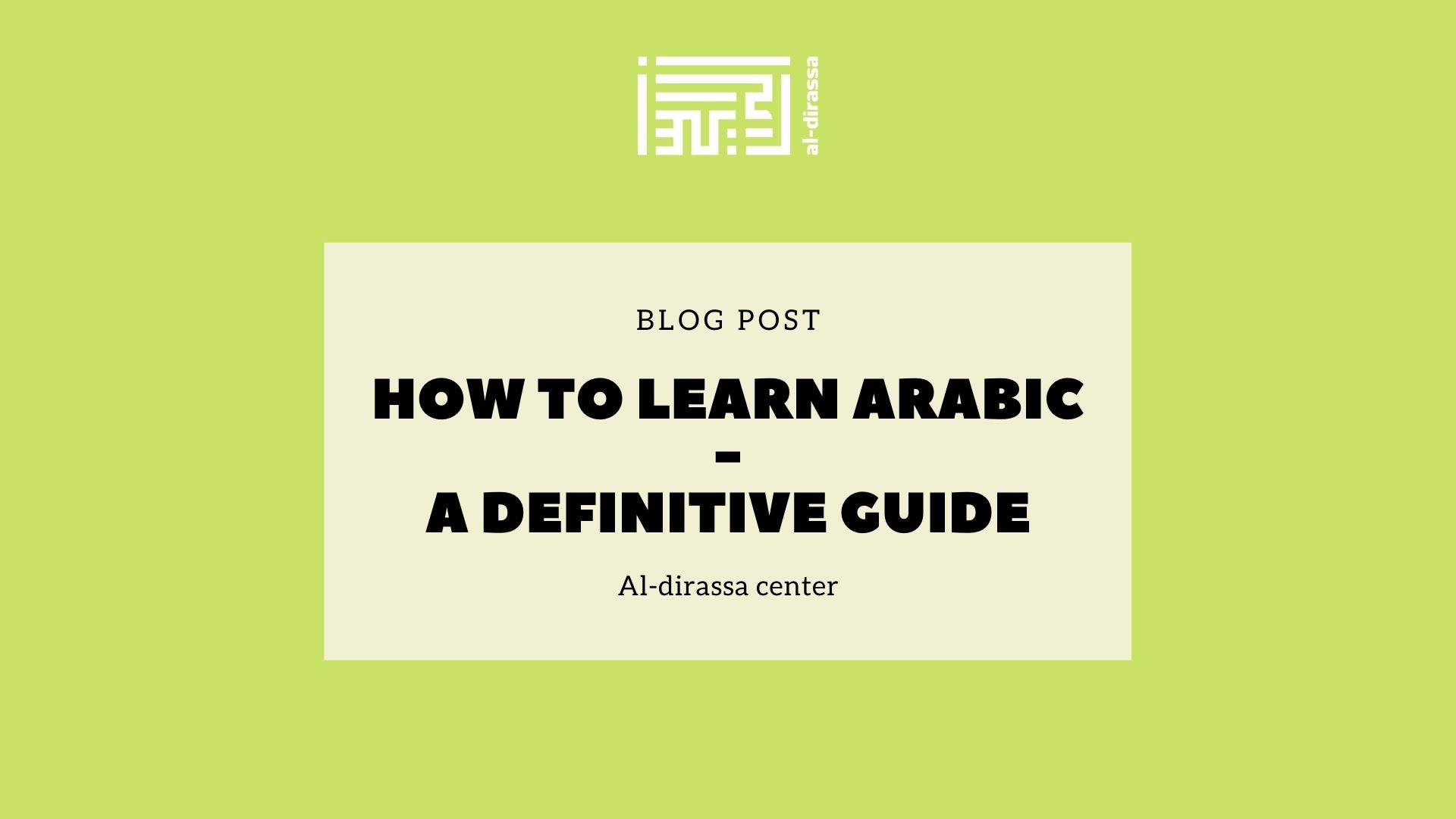 In the world, the sixth most commonly applied language is Arabic. Indeed, it is the language expressed in all of the Arab nations. As many of these countries are exposed to guests from other parts of the world, you require speaking the language to visit or trade in these countries. The Majority of people have the impression that they have to travel to one of these counties when they need to comprehend or learn Arabic, but this is not the case. To learn Arabic is easier now.
The great news is that there's never been a greater time to learn a complex language. That's because computers and the internet have made language study much more accessible and easy.
Why learning Arabic online is a good decision?
If you are thinking about the best way to learn Arabic, let me tell you there are two ways you can learn Arabic – one is joining classes for learning, and the other is enrolling yourself in an online Arabic learning course.
The latter is a very effective and excellent way of learning Arabic. How? As Arabic is spoken in 30 countries and these countries include – Saudi Arabia, United Arab Emirates, Algeria, Kuwait, Qatar, Jordon, and Bahrain are the top countries of the world with high economic growth. Also, people worldwide go to these countries in search of job opportunities and a better life.  Thus, to work in these countries, people have to learn Arabic.
Considering the demand for Arabic learning, concerned people grabbed this opportunity and profited from this. Many courses were developed for people to learn Arabic. Consequently, these Arabic learning courses are developed, and many other facilities are provided to improve Arabic fluency.
Book your free trial lesson
In addition to the free Arabic courses, we offer you to begin your journey to fluency in Arabic right now for free with a graduated Egyptian teacher.
What Three Types of Arabic Courses You Should Keep in Mind While Opting For One?
The Arabic language offers amazing opportunities to the students in the job sectors as well. Here we have mentioned some top reasons for learning Arabic below:
Arabic is high in demand.
Arabic helps in learning about the world's second-largest religion.
Allows you to act as an ambassador
Helps in understanding the Arab culture
It helps in self-discoveries.
It will make communication easier with locals.
 
These are the top reasons for learning the Arabic language instead of other languages. When it comes to choosing Arabic language courses online, you will discover different options on the web. Nevertheless, not every course will meet all your expectations and make your experience good.
You need to discover about the three types of Arabic courses while opting for one. Thus, it will definitely help you in getting the desired results. Here we have mentioned the three Arabic courses below, which will help you make a good choice.
Arabic language course:
You will discover the Arabic language course for beginners online. Learning Arabic is a complex task as you need to start with the basics. The starter program allows people to start with easy lessons, helping them easily learn Arabic. You can increase the level as well as clear them completely.
The basic Arabic language courses allow students to learn the language with online tutors. Thus, they will help you understand the basic chapters of the Arabic language before you understand the meaning.
It will help you in making the communication better and get knowledge of the Arabic language. If you want to learn a new language, you should join the beginner's programs.
Professional Arabic language course
If you want to develop excellent Arabic language skills, you should go with a Professional Arabic language course. The professional courses develop speaking, writing, and reading skills in the Arabic language, which will help you complete the language.
The professional courses help people who want to perform research work or build a future in the Arab. It will provide detailed information about the language and develop the proper skills you require for future use.
You can start the course with the easy lessons and set the levels according to your comfort. This course is worth it for professional learning and provides complete guidance to the students.
Egyptian Arabic dialect course:
The Egyptian Arabic dialect course is one of the important types of Arabic language courses online. A lot of people can't make a difference between the dialects and often make the wrong decision. If you plan to set a job or carrier in Arab, you should choose the Egyptian Arabic dialect.
It will help in your routine life and make communication easier with the locals. It is the best for everyday life, including booking a taxi, getting your hair cut, or visiting the local market. This course will allow you to establish comfortable communication with locals.
Online ways to learn the Arabic language 
Online courses for Arabic learning are improved and provide many additional facilities to the people than Arabic learning classes. Learning Arabic through online courses results in better fluency compared to classes. Here are some benefits of learning Arabic online to explain this point.


Web-based program
The simplest and least expensive tactic for mastering a new dialect will be finding an appropriate web-based program. Some applications include membership in online training conditions, which might incorporate discussions for other students. You no longer have to feel alone. Motivation can work a great deal here. When studying a language on your own.
Apps for learning Arabic
Mobile applications allow the facility to learn Arabic effectively, quickly, and while having fun for the people. Nowadays, everyone has smartphones. Thus, having an application on your phone will help you learn Arabic anywhere you want according to your convenience, and these applications teach you Arabic for free.
Speech recognition technology
 Think of having an Arabic teacher in your pocket, always ready to teach you Arabic whenever you want, and help you in every step of your journey to learning Arabic. This is very important when you want to improve fluency and pronounce every word perfectly. For providing this facility, speech recognition technology is developed. This technology examines your Arabic pronunciation and provides you the correction at the same time. This technology is used by almost every application for Arabic learning. So having quick feedback can fasten your learning make you fluent.
Clear audio from Arabic native speakers 
The online courses provide participants clear and real audio from the native speakers of Arabic. This helps you in making your pronunciation right and your base strong, which eventually improves your fluency.
Practice through conversation
imagine having a real conversation from the comfortable environment of your home. Wouldn't it be incredible? To provide this facility, a virtual partner for conversation can discuss with the learner. Arabic Chabot, an advanced computer program that you can use to have an intelligent and smart conversation. Online courses for Arabic learning provide this facility. Nothing can teach you better Arabic speaking than having a real conversation. Having a conversation on whatever topic you like whenever you want without fear of being corrected by any person.
Traditional Techniques to learn Arabic
The most convenient way is through real interaction and communication with Arab people. Thus, according to studies, people attempting to learn the Arabic language or any other kind of a foreign language for that matter have a high success rate of effectively learning the language through listening, practicing, and interacting with individuals—especially, who are adept and skilled in Arabic language usage.
Accelerated Arabic Language Courses
If you often find yourself traveling to Middle East countries or you have family in countries like Jordan, Egypt, and Saudi Arabia, amongst others, you can learn Arabic argots and idiolects through courses offered either online or on-campus. Since Arabic represents the 5th most frequently spoken language globally, widening your spheres, understanding, and language usage through these programs and classes is of profound assistance.
Arabic Training Tools and Aids
– Those who can't afford to pay for crash courses and Arabic sessions have the option of a large number of visual, written, and audio software and eBooks, which are available online and a fraction of the cost of most training courses. A word of warning though you do need to ensure you get one of the better eBooks or online training solutions as there is a lot of trash out there.
CDs to learn
People used to consider books to learn or hear CDs of foreign-language. However, people considered them as backdated methods. A skilled foreign-language software plan lets you hear, speak, understand, and read the language in an interactive atmosphere.
Wish to Know About Widely Used Arabic Learning Textbooks? Know All About It
Textbooks are essential while learning a language such as Arabic that involves a strange writing system. With the introduction of new diction and syntax, one basically has to learn how to read repeatedly. Being considered very tough to learn Arabic, having a comprehensive Arabic textbook that makes the language break apart into pieces that makes it easier to learn and enjoy.
Textbooks are the perfect point to start to learn Arabic. Textbooks are an essential stepping stone to master the Arabic language. The difference between spoken and written Arabic is so massive. There is much debate among the teaching community. Thus, those who want to learn Arabic might be wondering which textbook they should use to learn Arabic. Here in this guide, we have come up with some options.
There are several Arabic textbooks available:
Alif Baa
It is an introductory textbook that lets the new learners how to read and write the Arabic alphabet. Learners exercise writing Arabic letters with the help of this book and also learn basic words and greetings.
The interesting factor of Alif Baa's writing lessons is the use of arrows to help the learner visualize how to write the curvilinear script properly.
The Al-Kitaab Series
This is the most used series of Arabic textbooks of American universities. The Al Kitaab Series's impact also extends to many studies abroad programs for English speakers in the Arab region. The series makes the transition among locations easier as the learner continues their studies to learn Arabic.
The plus point of this series is that it comes with less emphasis on the basic linguistic necessity. The third part of the series is perfect for learning as it concentrates deeper, more abstract cultural and political issues in the Arabic speaking world.
The Ahlan wa Sahlan Series
It is the most used series after the Al-kitaab series. There is a normal consent that Al-Kitaab is for a modern standard textbook that has a bit more force on conversation, whereas Ahlan wa Sahlan is more about increasing knowledge of grammar. Being focused on reading grammar, this series is also acknowledged for having a more practical vocabulary list than Al-Kitaab.
Arabic Verbs and Essentials of Grammar
This textbook is specifically committed to the syntax of the Arabic language. This textbook covers all the tense and connects, and it includes regular and irregular verbs, exclusion, non-verbal sentences, dual-tense, etc.
Advance Media Arabic
This textbook is for advanced learners who are ready for true authentic texts. This book contains authentic Arabic language articles from BBC, Al Jazeera, Al Hayat, and more known news sources.
There are so many good books that are also available, and you can find them online too. You can join online Arabic learning classes and get an idea about the best books to go with. Best Online tutors offer you the best guidance and help you in all possible ways. You can get the best and simple study material that allows you to have a good command of this language. You need not worry about anything. Consequently, you can go with books available for beginners. These books' designs make learning simpler for you.
The Al-dirassa Center offers online Arabic, Quran and Islam courses for non-Arabic speakers. If you would like to join our class, please get in touch with us.