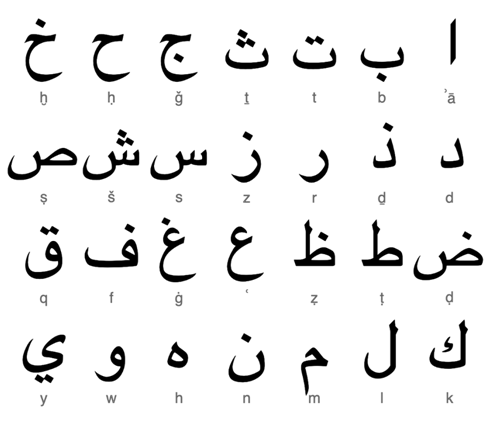 Learning Arabic alphabets and writing can be very different unlike the Latin alphabet those being used by English speakers. It is read and written from right to left and it has 28 letters with many of special characters and vowel which are used according to word. This is a tricky language and you need to learn each and every aspect carefully here. Here in this guide, we have tried to make it simpler for you, just check out the details below:
It makes you think that learning Arabic alphabets are hard to learn and write but it is much simpler than you think. Learning the basics and doing some regular practice will make your learning of Arabic alphabets easily.
Unlike Latin alphabets No upper or lowercase letters are used in Arabic alphabets still every letter can be written otherwise depending on the letter's position in the word or line.
Each letter can take four forms in the word; it could be at the start, in the middle, in the end or all alone.
Writing Arabic
When Arabic is written it is done in cursive or backhand form making all the letters connected and flowing with each other.
The existence of four different forms makes the flow to arise. It may seem that there is plenty to learn, but once you decide and keep going it will become easier.
In these four forms the starting and the middle form of the letter can look quiet same and the final and the alone shape could be resemble to each other. It makes pretty easy to learn Arabic alphabets, shapes and connecting the letter and making words.
Some method can be used to speed up the learning and writing of Arabic alphabets. These techniques will help in the process of learning. Here are some methods you can apply to your learning:
Try to write the alphabets and words continuously without lifting the pen. Arabic writing needs effortless relationship from one letter to the other that means an effortless and flowing style of writing. Try to keep writing in continuous manner from one letter to the next letter without any obstacle.
For maintaining the better flow of your writing hold the pen in the tips of your finger. It will give you preferable rein and will also help improving command of sheer details of every letter.
The biggest challenge of learning and writing Arabic alphabets is to writing from right to left. You need to make this change to learn Arabic alphabet and also require the much needed practice. Start propelling the pen from right to left and start to grow a new muscle memory. This is hardest part of this learning but you can master it with some good practice.
Best route to master the Arabic alphabet is to practice the shapes of every letter again and again. By Repetition you can maneuver this task. Also it will develop the muscle memory required to write each letter and you don't have to think about it every time.
It all starts with basics. So you start trying basic shapes first and complete the stroke. After that you need to add some dots or strokes.
Everything needs to be written in the pattern of right to left.
After learning shapes, start making the words from the letters. Exercise using letters in different spots in different words. This is something that you should know about writing and reading.
If you are looking for the best platform to learn this language without any hassle, then look no further than en.al-dirassa.com. Here, you will find best tutors and study material that will allow you to go deep in this subject. They have many courses and training programs available for all sorts of learners, be it beginners or advanced learners. You should go with the right course. You can refer the above given tips to make things easier.