'Salah' or 'Prayer' is a unique form of worship in Islam. After the testimony of faith 'Shahada', Prayer is the second most important pillar of Islam and Muslims are obliged to perform 'Prayers' 5 times a day.
Prayer involves various physical movements, such as standing, bowing, prostrating, and sitting. Each of these movements requires you to recite Quranic verses in Arabic. If you want to learn how to pray in Arabic, you will need to understand that 'Salah' is comprised of different units of prayers, also known as, 'Rakah' and each unit involves some basic steps. Without further ado, let's learn how to perform prayer in Arabic.
Steps Involved in Prayer
Standing
Takbir
Recitation – Fatihah
Bowing – Ruku
Prostration –Sujud
Sitting –Tashahud
Learn How to Pray One Rakah in Arabic
Step 1 – Standing (Make Intention to pray)
Make an intention wholeheartedly to begin prayer. Your focus should be on the prayer itself and not on worldly matters.
Step 2 – Takbir
Now raise your hands to your ears while reciting 'Allahu Akbar" (Allah is the Greatest).
Step 3 – Recitation (Surah Fatihah)
Nowlower both hands and place them over your navel. Make sure your right hand is over left hand and recite the opening chapter of the Quran. Begin your prayer by reciting this Arabic phrase:

Translation:
'I seek refuge in Allah from the accursed Shaytan (devil).'
Then recite Surah Fatihah: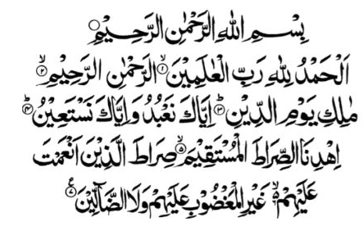 Step 4 – Bowing Down (Ruku)
While bowing down, recite 'Allahu Akbar'. Keep your back straight and your hands on knees, while your eyes should be attentive towards the ground where you will prostrate. In this bowing position, recite this Arabic phrase three times:
Translation:
'How perfect is my Lord, the Magnificent'
After reciting this, return to your standing position again. While rising from 'Ruku' position, bring your both hands to your ears and recite:

Translation:
'Allah hears those who praise him, Our Lord, to You is all praise.'
Step 5 – Prostration (Sujud)
While prostrating to the ground, say 'Allahu Akbar'. In this position, your palms, forehead, nose, knees, both hands and toes should touch the ground. While in Sujud, recite this phrase 3 times:

Translation:
'How perfect is my Lord, the Most High.'
Step 6 – Sitting
While rising from Sujud, say 'Allahu Akbar' and sit on the left leg for a moment in such a position that left foot rests on the ground whereas right foot is upright. Now to perform the second sujud, repeat step 4 and recite 'Subhanna Rabbeeyal 'Alaa' 3 times again.
Arise from this prostrating position, and return to your standing position while saying 'Allahu Akbar'.
Well Done! You now have finished one rakah.
In every prayer, the first rakah is performed in these steps. Moreover, at the end of every second rakah, tashahud is performed.
Step 7 – Sitting (Tashahud)
This step is performed after every 2 rakah. In this step, after making 2 Sujud, you have to sit and recite supplication in Arabic known as 'Attahiyat'. This is basically a part of the conversation between 'Allah' and 'Prophet Muhammad (Peace Be Upon Him) during Isra wal Mairaj (Night journey).
You should raise the index finger of your right hand and recite: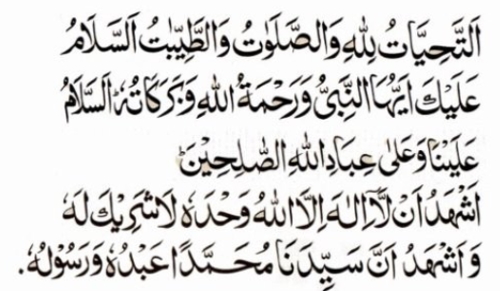 Translation:
'All compliments, prayers and pure words are due to Allah. Peace be upon you, O Prophet, and the mercy of Allah and His blessings. Peace be upon us, and on the righteous slaves of Allah. I bear witness that none has the right to be worshipped except Allah, and I bear witness that Muhammad is His slave and Messenger.'
More importantly, in the final rakah of your prayer, after tashahud, you will need to recite 'Durood-e-Ibrahim'.
Translation:
'O Allah, send prayers upon Muhammad and upon the family (or followers) of Muhammad, Just as You sent prayers upon Ibrahim and the family (or followers) of Ibrahim, Verily, you are full of Praise and Majesty. O Allah, bless Muhammad and the family (or followers) of Muhammad as You blessed Ibrahim and the family (or followers) of Ibrahim, Verily, you are full of Praise and Majesty.'
Now that you have learned how to perform one complete rakah in Arabic, you can perform the entire prayer by repeating these steps depending on the number of rakah involved in 5 times Prayers.