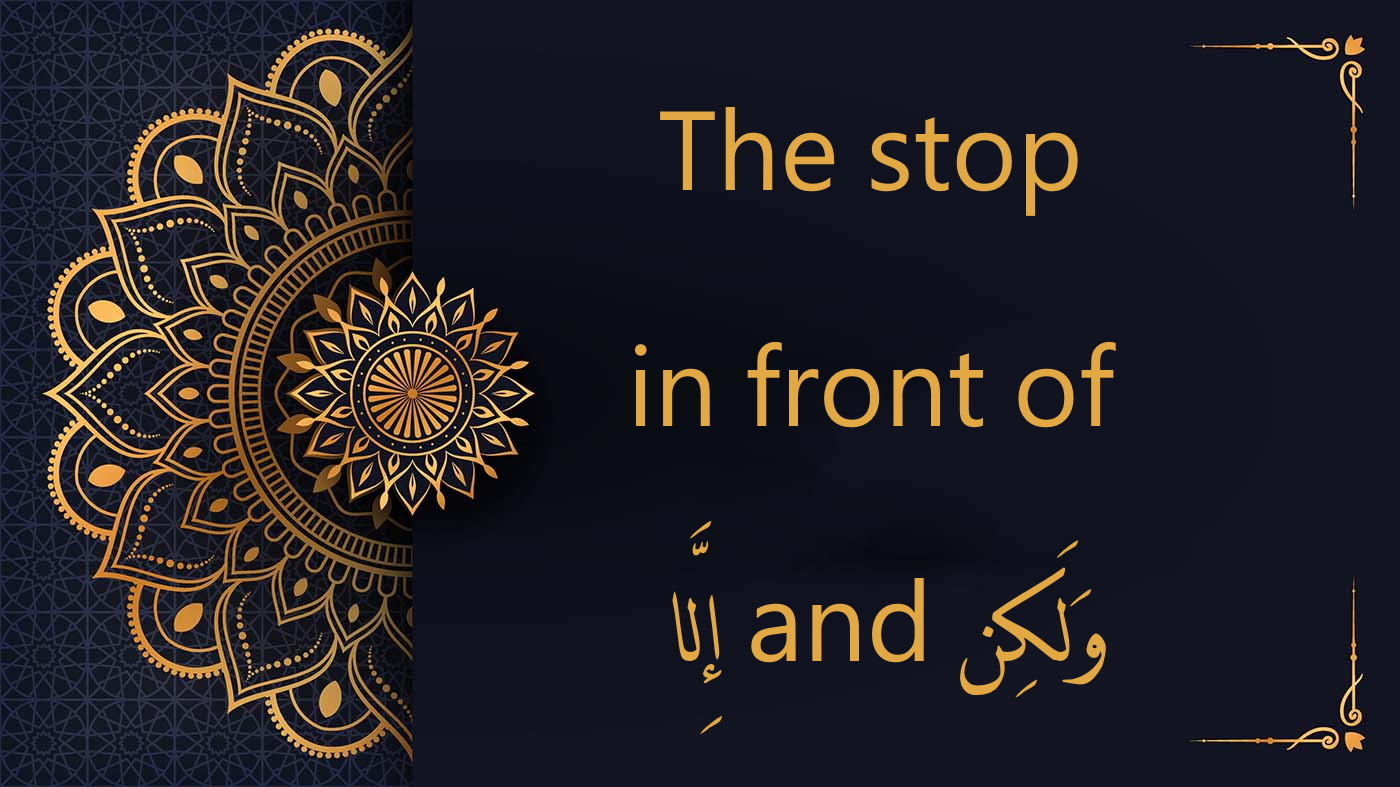 When a verse begins with إِلَّا and وَلَكِن, there is two sunnah that applies to the verse, with the verse preceding it:
as sunnah fawaseel – which is to respect the end of the verse
as sunnah ta'abadiyyah – which is to respect the meaning of the verse
  Example:  
وَلَا تَقُولَنَّ لِشَيْءٍ إِنِّي فَاعِلٌ ذَٰلِكَ غَدًا ﴿٢٣﴾ إِلَّا أَن يَشَاءَ اللَّ
23. Et ne dis jamais, à propos d'une chose: «Je la ferai sûrement demain», 24. sans ajouter: «Si Allah le veut»(18:23-24)
وَمَا كُنتَ بِجَانِبِ الْغَرْبِيِّ إِذْ قَضَيْنَا إِلَىٰ مُوسَى الْأَمْرَ وَمَا كُنتَ مِنَ الشَّاهِدِينَ ﴿٤٤﴾ وَلَـٰكِنَّا أَنشَأْنَا قُرُونًا فَتَطَاوَلَ عَلَيْهِمُ الْعُمُرُ
44. Tu n'étais pas sur le versant ouest (du Sinaï), quand Nous avons décrété les commandements à Moïse; tu n'étais pas parmi les témoins. 45. Mais Nous avons fait naître des générations dont l'âge s'est prolongé. (28:44-45)
Technically, we must recite the verse that precedes the one that begins with إِلَّا or وَلَكِن, then resume the recitation of the previous verse a second time and continue with the verse that begins with "إِلَّا and وَلَكِن.
For example with Sura al Asr:
وَالْعَصْرِ 
إِنَّ الْإِنسَانَ لَفِي خُسْرٍ
 إِلَّا الَّذِينَ آمَنُوا وَعَمِلُوا الصَّالِحَاتِ وَتَوَاصَوْا بِالْحَقِّ وَتَوَاصَوْا بِالصَّبْرِ 
Regarding the verses 2 and 3, it must be read:  
stopوَالْعَصْرِ 
stop إِنَّ الْإِنسَانَ لَفِي خُسْرٍ
إِنَّ الْإِنسَانَ لَفِي خُسْرٍ  إِلَّا الَّذِينَ آمَنُوا وَعَمِلُوا الصَّالِحَاتِ وَتَوَاصَوْا بِالْحَقِّ وَتَوَاصَوْا stop بِالصَّبْ 
Book your free trial lesson
In addition to the free tajweed lessons, we offer you free to correct your reading with an Egyptian Quran teacher.